By Michael Hutchins, Herald Democrat
Posted Feb 24, 2018 at 12:01 AM
Updated Mar 1, 2018 at 12:00 PM
Texoma residents spoke publicly about their experiences and battles with conditions ranging from autism to substance abuse earlier this month during the Community Behavioral Health Conference. In a segment of the conference entitled, "Our Own Backyard," speakers gave a face and a voice to discussions on mental illness.
The segment included discussions by a Grayson College student who grew up with autism, a woman who battled depression and alcoholism, a mother of a son who committed suicide and the first graduate of the Grayson County Veterans Court.
Life after addiction
For Lisa Shields, the discussions at the mental health conference almost didn't happen. As a lifelong sufferer of anxiety and panic attacks, Shields said she had difficulties bringing herself up to the stage to talk about her condition.
Shields said she first started taking medication for her anxiety when she was 15 years old, but the symptoms continued through her early 20s following the death of her brother due to substance abuse. At the age of 24, Shields got married and had a child.
"I noticed my anxiety was really bad postpartum," she said. "I spoke with my doctor at the time, and he put me on medication, but it wasn't easing my symptoms as quickly as I wanted, so I started to drink."
Shields said she drank to ease the symptoms of her anxiety and depression because her medication did not seem to work. However, looking back, she said the medicine was likely fighting against the alcohol — a natural depressant.
"I was living the life of a functional alcoholic, hiding the amount I was drinking from my husband, family and friends, or so I thought," she said.
The alcoholism continued to progress to the point that she began to drink before work, during lunch, on the way home and finally at home. Eventually it progressed to the point where she was drinking while at work, she said.
"Wine and beer turned to vodka and I was totally oblivious," she said. "I was slowly but surely killing myself and I simply didn't care."
As her addiction continued to escalate, Shields said she was asked by her employer to take a leave of absence to address her illness. Shields said she went home and drank herself sick that night.
When she woke up the next day, Shields said she started to go through her normal routine and went to the bathroom and grabbed a bottle of vodka she kept there. As she looked into the mirror, she had a realization.
"I heard the still small voice say, 'If you drink that, you will die today,'" she said.
On that day, Nov. 6, 2013, Shields checked herself into the ER where she was put on sedation detox. At the time, she was malnourished and in poor health.
"I had been living solely on vodka for at least two months," she said.
Year of firsts
For Bobbi Gilbert, the day of April 20, 2015 will be one she never forgets. Gilbert said she woke up at 5:55 a.m. to the lights of a sheriff's car in front of her house. At first, she wasn't sure why a police car would be in front of her house.
After she got dressed and went to the front door, she said she found the sheriff on her front porch. He said that the Collin County sheriff had asked him to speak with her.
"And that was when our year of firsts started without you," Gilbert said, her voice cracking from emotion.
At about 2:40 a.m. that morning her son, who had previously had issues with mental illness and depression, left the house and went over to his ex-girlfriend's home. Gilbert said the relationship between the teenagers had been toxic and that her son's girlfriend had been mentally abusive.
"Our 17-year-old son snuck out that night at approximately 2:40 a.m., got in his dad's truck, put a picture of his big sister on the passenger's seat, a note to his ex-girlfriend, (and) drove to her house," Gilbert said. "(He) backed the truck into her driveway, took off his hat and put it on the visor, took off his cross necklace… got out of the truck and put it on the trailer hitch so she couldn't find it.
"(He) took a gun out, pointed it to his head and fired, committing suicide in her yard. That is what happens when you die of depression. It is suicide."
Following the death of her son, Gilbert said she decided to write two books about her experiences with his suicide and the year that followed as her family began to heal.
During her discussion, Gilbert said she was working to promote changes in how school districts discuss and teach about suicide. As an example, she is advocating that educators teach suicide awareness in September instead of May. Additionally, she said educators should send out notices of the symptoms and warning signs of depression during breaks and holidays as many suicides occur during the holidays.
The first graduate
Colt Floyd was the first person to enroll and graduate from the Grayson County Veterans Court program. Following a series of arrests for driving while intoxicated, Floyd said the program and treatment for Post Traumatic Stress Disorder helped him bring his life back into order.
During his service in the armed forces, Floyd said he was involved in about 450 fire fights over a 300 day period. During this tour of duty, he said he had 10 blast exposures. Among his experiences on the battlefield was an ambush that left his unit with one fatality and multiple soldiers who needed to be evacuated due to injuries.
Following his return home, Floyd said he was prescribed nine separate medications to treat his medical conditions from his service. Despite the medication, Floyd said he turned to alcohol to help cope.
Following his third arrest for driving while intoxicated, which could have led to prison time, Floyd said he decided to take part in the recently created veterans court. Through the 24-month program, which included 60 days in jail, Floyd said he was able to avoid prison time.
Following his graduation with the court, Floyd said Grayson County District Attorney Joe Brown asked him to speak out about his experiences. Floyd said the whole experience allowed him to admit and be open about his issues.
"Once I did address it and make myself transparent of the problem going on, I began to see the light at the end of the tunnel," he said.
Running for a chance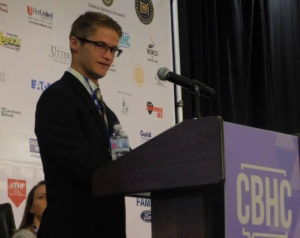 Jake Thornton is a full-time student at Grayson College, maintains a job and enjoys running and volunteering at a local animal shelter in his free time.
"I do all of this with autism," he said.
Thornton said he was diagnosed with autism at the age of 4, which is later than when most are diagnosed. By that point, Thornton said he was mostly non-verbal, and had sensory issues with being touched. Despite calls for him to be taken care of full-time at a dedicated hospital, Thornton said his mother instead decided to keep him at home with the family.
Since the diagnosis, Thornton said he has gone through speech, physical, occupational and touch therapies to address some of his difficulties. This led Thornton to be able to attend public school and ultimately enroll at Grayson College.
"If you are here and an educator, I thank you," he said. "I know it can be constantly exhausting to have someone like me in your classroom."
It was in his senior year that Thornton said he found his love for the sport of running. Despite the many sensory issues that come with it, Thornton said he has grown to the point that he has completed 62 races, including his first marathon in December.
In his talk, Thornton said the job prospects for those with conditions such as his are not always the best, due to a need to interpret body and social cues. Thornton asked the employers who were present to give individuals like himself a chance in the workplace and educate their employees about the topic of autism.
"It needs to be OK to say but also to be received as well," Thornton said, referring to a popular slogan on mental illness.